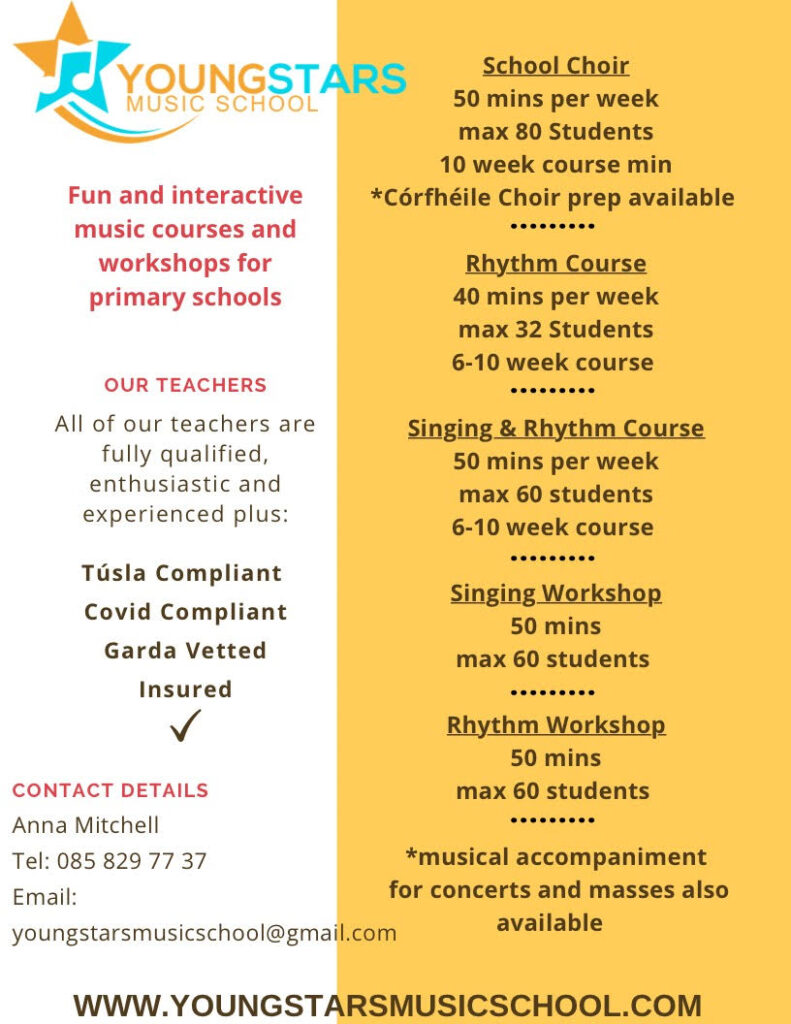 Youngstars offers a fantastic range of in-school workshops and courses for Primary Schools. These are interactive, inclusive and lot's of fun! Check out what we have on offer above, and watch our Rhythm Course video from 2021 from Scoil Chroí Íosa in Blarney, which was a huge success!
Performances

At Youngstars we have lots of performance opportunities throughout the year, showcasing our amazingly talented students. Our Adult choirs are always aiming for a casual but brilliant show a couple of times each year, and our kids look forward to our Christmas, Spring and Summer recitals.
Awards & Scholarships

At Youngstars we always reward hard work, it's so hard to choose every year as our students are all so brilliant! We choose a term scholarship for a specific stand out student each year, this student may be a really hard worker, or most improved, or even most enthusiastic, simply someone who just really impresses us.

We are also super proud of any students who sit music exams and come out smiling with their results, exams aren't for everyone, but those who do choose to go down that route work really hard to achieve their well earned high marks!
Cruinniú na nÓg 2020

Youngstars was delighted to take part in Cruinniú na nÓg 2020 with our friends at Cork Opera House. We ran a series of amazing music and singing workshops for kids from ages 4-18!

It was a huge success and we look forward to next year already!
Chitty Chitty Bang Bang Singalong

Youngstars was delighted to team up with Cork Opera House once again to highlight their Summer musical, Chitty Chitty Bang Bang. We had an absolute blast flying through the sky and singing some of this classic film's great songs.